Massage Therapy at Tucson's Center for Healing, Caritas
When we say we offer massage therapy at Caritas Center for Healing in Tucson near downtown in the Armory Park neighborhood, "therapy" is the operative word. Therapy is a medical treatment, and massage therapy can be used to treat a wide variety of medical symptoms and conditions.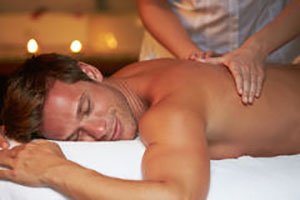 That's not to say that you can't get a Swedish-style (relaxation) massage from a therapist at Caritas and get great benefit from it. But we want to emphasize its role as a medical treatment. Our therapists are extensively trained and highly experienced.
Massage therapy works through manual manipulation of soft body tissue such as muscles, tendons and ligaments, to enhance a person's health and well-being. There are dozens of types of massage therapy methods.
Massage therapy is used to reduce tension, stress, and anxiety, relax muscles, rehabilitate injuries, reduce pain, and promote overall health and wellness.
It is especially helpful for the treatment of low back pain, neck pain, and tension headaches.
According to Mayo Clinic:
Massage is generally considered part of complementary and alternative medicine. It's increasingly being offered along with standard treatment for a wide range of medical conditions and situations.

Studies of the benefits of massage demonstrate that it is an effective treatment for reducing stress, pain and muscle tension.
While more research is needed to confirm the benefits of massage, some studies have found massage may also be helpful for:
Anxiety
Digestive disorders
Fibromyalgia
Headaches
Insomnia related to stress
Myofascial pain syndrome
Soft tissue strains or injuries
Sports injuries
Temporomandibular joint pain
Beyond the benefits for specific conditions or diseases, some people enjoy massage because it often produces feelings of caring, comfort and connection.
Or, in the words of a leading massage therapy website:
There's no denying the power of bodywork. Regardless of the adjectives we assign to it (pampering, rejuvenating, therapeutic) or the reasons we seek it out (a luxurious treat, stress relief, pain management), massage therapy can be a powerful ally in your healthcare regimen.

Experts estimate that upwards of ninety percent of disease is stress related. And perhaps nothing ages us faster, internally and externally, than high stress. While eliminating anxiety and pressure altogether in this fast-paced world may be idealistic, massage can, without a doubt, help manage stress. This translates into:

Decreased anxiety.
Enhanced sleep quality.
Greater energy.
Improved concentration.
Increased circulation.
Reduced fatigue.

Furthermore, clients often report a sense of perspective and clarity after receiving a massage. The emotional balance bodywork provides can often be just as vital and valuable as the more tangible physical benefits.
Learn more about the medical/health benefits of massage through the National Institutes for Health.
Watch the following short video: Do Massages even Work?
Meet Tucson's best massage therapists
Griselda Wegener:
Griselda Wegener most recently worked at the Four Seasons in Phoenix, AZ as a licensed massage therapist. After seventeen years of working in this field to help people relieve their bodies of tension and stress, she is now focusing on life coaching, chakra alignments and intuitive readings. However, she still offers massage therapy.
Contact Griselda: (480) 306-2920
Website: GriseldaWegener.com
Nanie Carillo
Nanie Carrillo is a cornerstone of Caritas, providing services to Tucson community members here at Caritas since 2007. She provides compassionate health care using Traditional Chinese Medicine (TCM) and massage therapy.
She also offers clients acupuncture, Chinese herbal therapy, massage, moxa, cupping, and counseling in nutrition and exercise.
Contact Nanie at: (520) 979-7078
Website: Acupuncture Del Soul
Learn more about Grisleda and Nanie on our practitioners' page, or visit their websites linked above.